Welcome to MySTPManuals.com
Stone and Tile PROS, Inc. is dedicated to being a rich source of resources and information to both the consumer of natural stone and tile, and to the tradesperson/professional. The manuals and other publications we produce are one important aspect of this.
Along with the interactive DVDs, and mobile APPS, MySTPManuals.com is an integral component of manuals published by Stone and Tile PROS, Inc. This is where you, as an owner of any of the manuals, will register and manage your account information and access resources available exclusively to you.
Our Manuals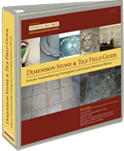 Dimension Stone and Tile Field Guide